Theolore
Age: 24
Bio: Theolore was once in The great Elonacian Army. He was captain of the archer's unit until he refused to assasinate an sleeping general of the opposing army. He was therefore sentenced to banishment in the Bazhair desert. However he ran off to the mountains refusing to leave his homeland. He is now considered a 'highly dangerous' outlaw by the king of the land.To hide his identity, he goes by Theo and poses as a huntsman/tracker. He roams the woods and mountains in hope of finding something he can dedicate his time to.
weapons/items: Bow/arrow, dagger, small throwing knives, belt with pouches that contain necessities.
Powers/abilities: uncaparable archery skills,super hearing, can control the wind, and warp by orbs of light.
Nealan
Age:26
Bio: Nealan grew up in the wealthy house of his father alone. His mother died in childbirth with his sister. The babe however, was born too early and did not make it; her lungs had not finished developing. Growing up alone, he tended to stay away from others. He always buried himself in his studies. He took a liking to science at an early stage. The maids around the mansion would scream when they found his 'experiments'. As a young boy, he had the habit of dissecting small animals and creatures he managed to catch. Once he grew into his teens, he found himself highly advanced in math as well science. At the age of thirteen, Nealan's father's health began to wane. He had come down with a sickness that no healer could cure. What he heard frightened him because he thought magic could save everything. His own magic skills developed nicely. At the age of fourteen, he was enrolled in the University of Cartharak to study medicine and science. Not even two months after he began studying there, he got word that his father had passed. With the cause of his father's death unknown, he felt even more dedicated to researching disease and sickness. Finally at the age of twenty-one, he graduated top of his class as one of the best researchers for new sicknesses. He now goes from town to city helping cure people and study new medicines/natural herbs for healing. He owns a clinic back in his hometown of Thaymore, but he cannot stand the sight of his empty house. The doctor writes everything in his journal from his research to patient information. Though he is a Master Healer and highly recognized as the youngest and most skilled researcher in the world of Elonacia, ironically, suffers from some kind of illness himself, but refuses to say anything to anyone. Some kind of illness tears within him that he cannot explain and genuinely scares him. He even calls it a curse sometimes because of its effects. The mysteriously quiet doctor may travel about heal people, but he does dedicate most of his searching to find a healing cure for his ailment. But perhaps.... it is the impending disasters that he always finds where ever he goes. Is there some other hidden reason as to Nealan's constant movement? Or perhaps he is running from his responsibility as Count and noble man. Or maybe he is running from something much more dangerous... that is constantly running in his shadow......
Weapons/items: small knives, a sword, Medical bag, horse.
Powers/Abilities: Healing powers, Impressive nightvision, ability to talk to crows, Able to communicate with the recent dead, and the ability to make people sleep.
Elaine
Age: 22
Bio: Elaine is a noble woman who has live in her father's palace her whole life. She hates her life there, practicing to be a noble lady who will one day marry into more power. Her father is on the King's council and is in charge of the library and history collections. Elain is home most of the time always hiding from her governess. One day she decided she couldn't take that life anymore when her father told her that she was going to be engaged to one of the rich nobles in the kig's castle. She then packed her things and ran off into the mountains in search of a way to restart her life, even as a peasant.
Weapons/items: a dagger, her hair pins that are sharp as knives, her pet dragon, horse, and clothes.
Powers/Abilities: ability to control water, speak to mythical creatures, and create illusions as well as mist.
Name: Damien Arwell Severyn
Age: 94
Race: Angel
Gender: Male
Orientation: Straight
Description: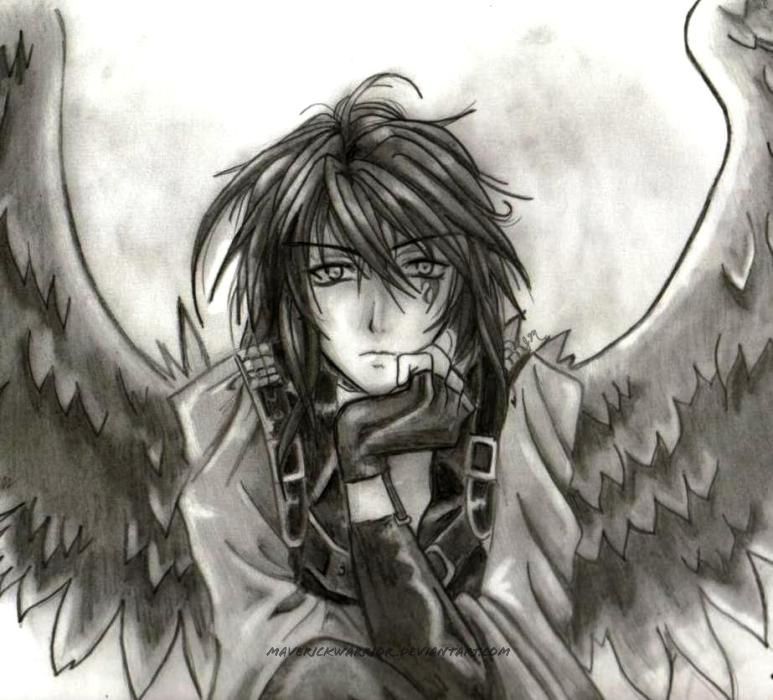 Personality: Kind, quiet, pensive, suave, and distant
Likes: Music, playing cello, singing, playing piano, reading, sketching, dancing, the wilderness, animals, nature, water, swimming, the moon, birds, flying, cats
Dislikes: Drama, the city, evil, thieves, evil doers, impatient people, fire, the desert, reptiles, idiots
Bio: He was born in Russia in 1908 along with many of the poor people in the land. He had three brothers and four sisters in his family. After his brothers went to fight in the first world war, he stayed home to see that his sisters were married and to take care of his parents. He was the youngest while his brother was eighteen years older than him. After his fifteenth birthday, his closest sister was attacked by a demon that controlled fire. It killed his sister and set fire to his whole family's house. He bravely got every one out except for himself. The last time he went inside, he tried to save his cat, Arianna. In doing so, he caught underneath the ceiling which had begun to collapse. He he lay there burning, a white light blinded him. A hand reached out and he took it. From that moment on, he became an angel. He woke up in a field of blossoming flowers days later with wings. He then dedicated his life to fighting demons. He gained the power to disguise himself as a human, but the unfortunate thing is, his burns remain. Despite his efforts to stop demons and simple crimes, he was shunned by his own family and people. They called him a demon that stole their son's body. Alone and wishing to start anew, he studied English and decided to move to America in the 1960s. After going to college twelve times he decided to find some real work. He earned degrees in Music, Music History, Theatre, Art, Dance, Romantic Literature, Fencing, Biology, Marine Biology, Botany, Quantum Physics, and Chemistry. Bored with all the time on his hands, he moved to the city to be a crime stopper/Demon hunter. By day, he is a scientist and by night, he is know as The Raven.