Electra Walton



She is a very dear O.C. I have been developing her for quite a while .She has a long and rich backstory which I might slowly update here as I go , which started from a simple pitch : post-world war II, witches,feminism.I had been developing a keen interest in those matters until they merged together and created a new world that made sense to me. In the cauldron (ahaha) I also threw in :coming of age story, politics, a reflection on identity ,retro glamour,New York.

Portrait :

Under Construction




Appearances on Gaia: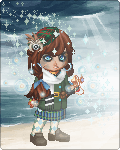 1954. After 10 years as a ward of the New Orlean Coven, young witch Electra is ready to head back home to her own coven in Brooklyn and take matters back in her own hands after the mysterious death of the coven leader, her mother Maud Walton.
Currently somewhere in the Hamptons,a beloved place of her mom,performing the last rituals and setting her soul free.